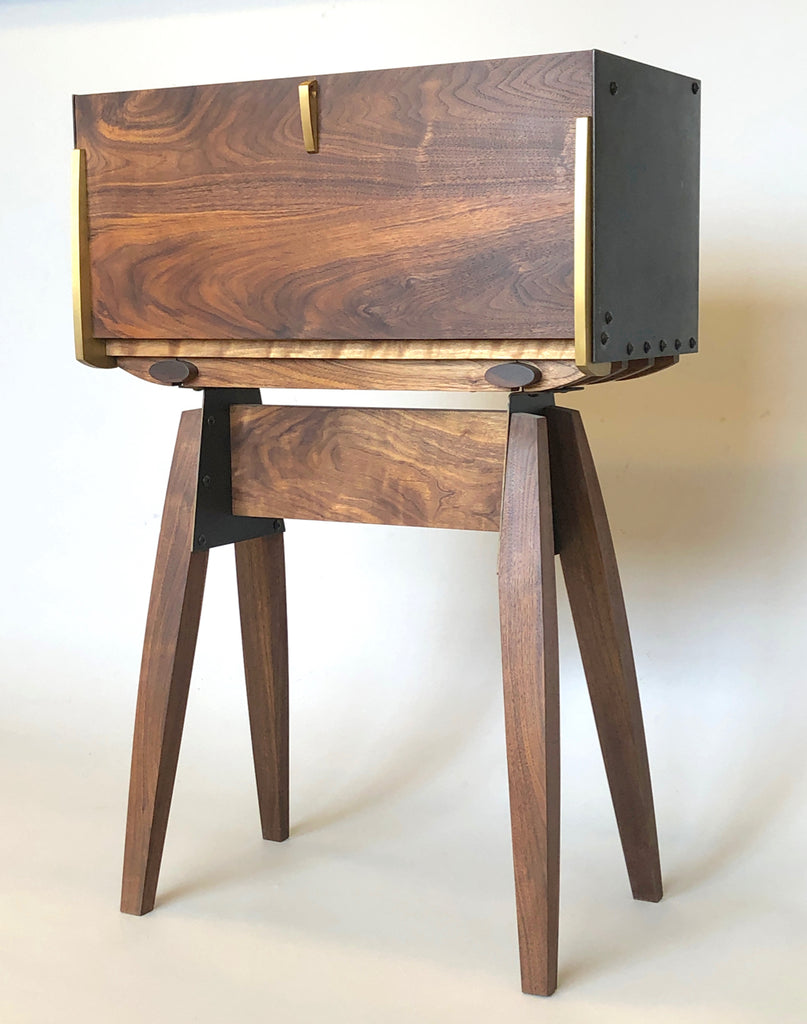 Ålpha Line PERSONAL DESK
Now you can close the door on work in progress, quieting the energy that emanates from the paraphernalia of labor that can cover a horizontal surface, this beautifully grained piece of furniture standing to the side poised to begin work again.
The DESK comes standard with custom-made brass hardware specifically designed for this piece to accentuate and facilitate the look and operation of the fall flap and lid.  The fall flap has a depth of 12" and together with the desktop provides a continuous 23"+ deep working surface when open. Clearance with the lid down is 11", large enough for the larger laptops, and is, of course,  unlimited with the top up.  The lid has a book rail on which you can set a pad, book, or phone for reference. Accessories include a drawer, pencil rail, and envelop dividers, here shown in figured maple.
Note that all the hardware is custom designed and made by me of solid brass specifically for this piece. It provides the strength, support— and flair integral to the design.
This PERSONAL DESK can also be mounted to the wall without legs.
Can be made in a wood of your choice (shown here in Walnut) and dimensions can be customized.
On Legs with accessories    (i.e. as shown)              $5200
 Feel free to call me at 415-822-1290 or email scottwynnarchitect@att.net with any specific requirements you may have.

IMPORTANT: SHIPPING IS NOT INCLUDED IN THE PRICE OF THE PIECE. PLEASE CONTACT ME PRIOR TO PURCHASE TO DISCUSS SHIPPING PRICING. ONCE SHIPPING IS AGREED UPON BETWEEN BOTH PARTIES, YOU MAY MOVE FORWARD WITH YOUR PURCHASE.