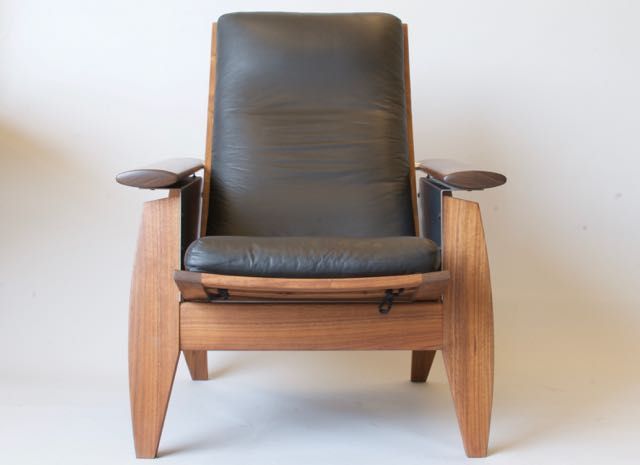 Ålpha Line LOUNGE CHAIR
This LOUNGE CHAIR is actually the first piece in the Ålpha Line series, the progenitor of the other pieces, but it took me over two years and many mock-ups and prototypes to work out the final proportions, details, and mechanics.  It had me stymied for a while, so I set it aside in the shop, looking at it periodically and occasionally reworking the design while I concentrated on developing other pieces in the collection.  Finally, I came back to it last year and finalized the back and seat curves, their upright and reclining angles, the seat width and arm height, the shape of the legs, and the upholstery.  I wanted something that said "comfort" and had the presence of an upholstered easy chair, but leaner and more structurally transparent.  I wanted something that bridged several styles and would feel at home in variety of interiors.
The padding on this is "structured"; that is, under its leather cover there are different layers of foam, of different densities and curves designed to align with the lumbar, upper back, neck and head, basically conforming to the natural curve of the back when the foam is compressed by the sitter. The seat foam is structured as well, with firmer foam at the sides and back  to increase the weight distribution over a wider area; if it were a flat piece of foam only your very bottom and back of the thighs would take all your weight, resulting in more frequent shifting of your weight to relieve the pressure on these areas.
The reclining angles of the seat and back are designed so that in the upright position there is still some support for the head when conversing or watching TV,  while the reclining position retains good support for watching a wall mounted TV — or for napping  (I personally did considerable field testing on this!).
Feel free to call 415-822-1290 or email scottwynnarchitect@att.net  to talk about your specific requirements.
And as you may have noticed, the folded steel sides form convenient pockets for you printed reading material and electronic pads.
Following requests, I have designed and built a footstool that can be used with the chair.
Shown in Walnut, black leather, hot-rolled steel, and aluminum. Custom wood and upholstery available.
Feel free to call 415-822-1290 or email scottwynnarchitect@att.net with any questions.  A FOOTSTOOL is available for this chair. Please call.
IMPORTANT: SHIPPING IS NOT INCLUDED IN THE PRICE OF THE PIECE. PLEASE CONTACT ME PRIOR TO PURCHASE TO DISCUSS SHIPPING PRICING. ONCE SHIPPING IS AGREED UPON BETWEEN BOTH PARTIES, YOU MAY MOVE FORWARD WITH YOUR PO