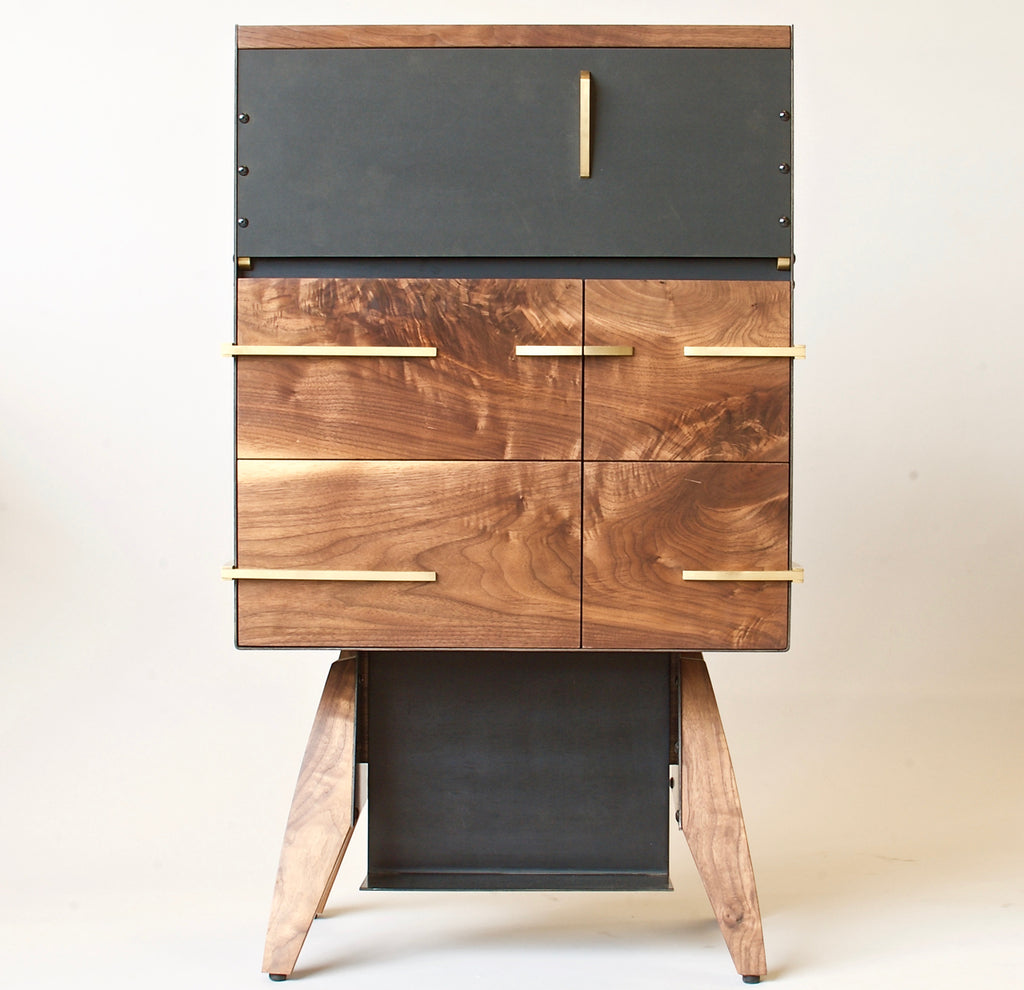 Ålpha Line LIQUOR CABINET
Space saving vertical storage here configured as a Liquor Cabinet. The fold-down panel doubles as a work surface.  The top lifts and locks open and has a shelf for holding recipe books or various electronic devices. There is a well at the back of the counter for taller items, and a small drawer for tools.  The lower compartment can be custom-configured to hold wine or liquor bottles as well as a variety of glasses.  At the very bottom below the case, is an optional shelf; inclined slightly backwards to keep things from falling, it is ideal for holding books or other small items.
This cabinet is easily reconfigured to work as a small desk, for instance, or as a set of drawers, purpose-built to store clothing or maybe a special collection.
I want to draw your attention to the hardware, custom designed for just this cabinet. All the hardware is brass, hand made in-house.
There is no plywood or particle board; it is all solid Walnut, with solid maple drawer parts hand-dovetailed together, with (in this piece, anyway) a solid Pearwood drawer bottom. The doors are held flat by battens dovetailed into their back. The counter is a material called Richlite, an ecofriendly material used for kitchen counters that is made of many layers of recycled paper compressed and bonded by resin.
42" high overall, 24" wide, 15" deep.  Walnut, hot rolled steel, brass, Richlite.
LIQUOR CABINET is now a custom order, 6-8 weeks.
Feel free to call 415-822-1290 or email scottwynnarchitect@att.net  to talk about your specific requirements.
IMPORTANT: SHIPPING IS NOT INCLUDED IN THE PRICE OF THE PIECE. PLEASE CONTACT ME PRIOR TO PURCHASE TO DISCUSS SHIPPING PRICING. ONCE SHIPPING IS AGREED UPON BETWEEN BOTH PARTIES, YOU MAY MOVE FORWARD WITH YOUR PURCHASE.