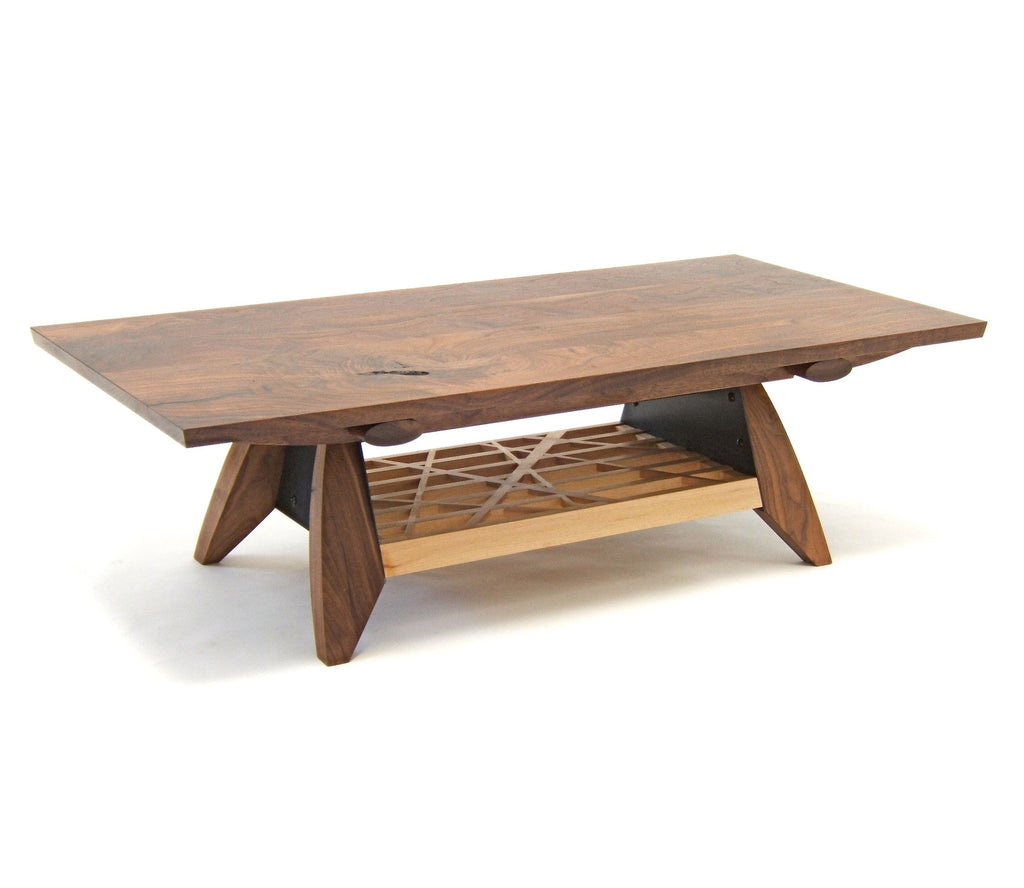 Ālpha Line COFFEE TABLE
Constructed similar to the Ālpha Line DESK this COFFEE TABLE continues the theme of the Ālpha Line CHAIR, using steel and wood in a unique combination that exploits the strengths of both to provide both beauty and efficient structural support. This 14" high table has a dynamic stance — and a dynamic presence. A lower shelf provides additional — shall we call it "placement opportunities" (we won't call it storage) — for magazines and papers, and less used objects.
The lower shelf shown here is a "Birds Nest" pattern of lattice and is constructed similar to a shoji screen but in a random pattern of lattice. 
The top is a full 1" thick and is all solid wood, no plywood or particle board. The top is finished with a minimum of 8 coats of hand rubbed Tung oil, a non-toxic finish that is by far the most durable of any of the natural finishes and easily repairable.
 Dimensions of the COFFEE TABLE pictured is 24"w x  48"l x  14"h. 
The COFFEE TABLE as shown is in American Black Walnut with Maple shelf. All the steel is patined black and lacquered.  Also available in Cherry, or Ash. Inquire as to other woods and patinas.
COFFEE TABLE as shown with the "Birds Nest" shelf is $2650.00
COFFEE TABLE with a simpler shelf consisting of straight parallel lattice is $2450.00. 
COFFEE TABLE without the lower shelf is $2250.00
 4 weeks or so. Feel free to call or email me to talk about your specific requirements.